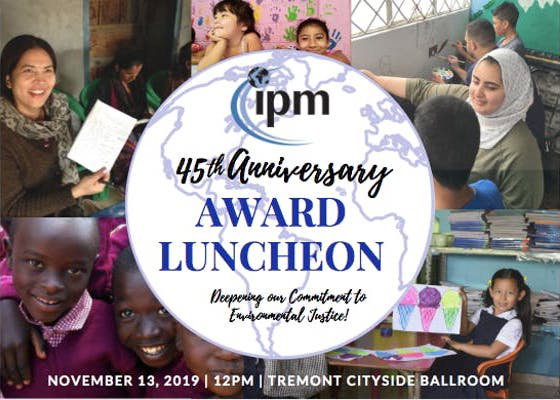 Join us on Wednesday, November 13th, 2019 as we honor the contributions of this year's honorees, and learn more about the ways our current global reality is impacting IPM Project Partners.
Paul Neundorfer, Co-Founder of The Refugee Response – Reverend Richard E. Sering Award
Anne Sowell – David N. Westcott Outstanding Volunteer Award
Arthumka Community Development Program, Nepal – Kathleen T. Mink Project Partner Award
HONORARY LUNCHEON CO-CHAIRS
John & Laurie Cunningham
George & Stephanie Morrison Hrbek
Jamie & Nina Scheffler
In addition, this event will feature a panel discussion on Environmental Justice: The Disproportional Effects of Climate Change on Community Development Across Borders. The panel will be a cross cultural conversation between Cleveland community leaders – like David Beach,Environmental Activist & Author –  and IPM's Regional Directors from El Salvador and India.
David Beach, – Environmental Activist & Author
Destinee Henton – Alliance for the Great Lakes
Adela Zayas – IPM Office for Latin America & the Caribbean
Mahesh Upadhyaya – IPM Office for South Asia
PATRON: $100
INDIVIDUAL: $50
STUDENT: $25
INTERESTED IN SPONSORING?
Call Kristina Toss at (330)-774-7995, or email ktoss@ipmconnect.org
Sponsorship Levels:
LEAD SPONSOR: $2,500

"Presented By" designation on event materials
Full page color ad in the program
Eight tickets to the event
PRESENTING SPONSOR TABLE OF 8: $1,500

Eight tickets to the event
Half page ad in the program
COMMUNITY PARTNER TABLE OF 8: $800

Eight tickets to the event and acknowledgement in the program
Sponsor packages and regular tickets may also be purchased over the phone or with a check. Simply call (216)-932-4082 to provide your registration information, and mail a check to IPM (International Partners in Mission) 3109 Mayfield Road #202, Cleveland Heights, OH 44118.