Thank you for joining us on November 13, 2019 for the 45th Anniversary Award Luncheon to honor the contributions of IPM's constituents and explore the ways our global realities are impacting IPM Project Partners.
For announcements on upcoming events, check out our News & Events page.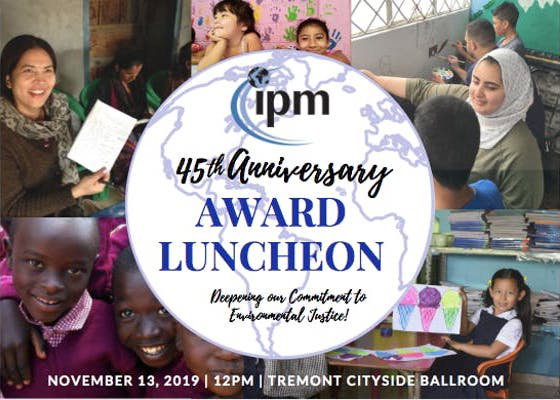 The General Assembly model reflects the cutting-edge, international governance structure of IPM.
IPM's Inaugural General Assembly comprised of a series of public luncheon and dinner events. Recognized experts and panel respondents gave presentations each day of the Assembly. IPM collaborated with local universities and high schools, like-minded non-profit organizations, and philanthropic partners, including Saint Ignatius High School, Notre Dame College and the City Club.
Paul Neundorfer, Co-Founder of The Refugee Response
Reverend Richard E. Sering Award
Anne Sowell
David N. Westcott Outstanding Volunteer Award
Arthumka Community Development Program, Nepal
Kathleen T. Mink Project Partner Award
Honorary Luncheon Co-Chairs
John & Laurie Cunningham
George & Stephanie Morrison Hrbek
Jamie & Nina Scheffler
The Disproportional Effects of Climate Change on Community Development Across Borders
This panel discussion was a cross-cultural conversation between Cleveland community leaders like David Beach, Environmental Activist & Author and IPM's Regional Directors from El Salvador and India. The panelists were:
David Beach, – Environmental Activist & Author
Destinee Henton – Alliance for the Great Lakes
Adela Zayas – IPM Office for Latin America & The Caribbean
Mahesh Upadhyaya – IPM Office for South Asia
Ten of IPM's Project Partners were present and shared their knowledge of the socio-economic and political issues in their countries as well as the solutions they are implementing to build justice, peace, and hope.