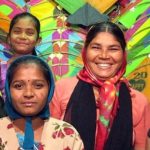 HUM (Ahmedabad, INDIA) is a microenterprise project run by Dalit and Muslim women who make kites, rakhis (traditional string bracelets), sewing beads, soap, and other products to sell to homes and small businesses. HUM works to bring people of different backgrounds together, particularly those of Hindu and Muslim backgrounds, with the goal of peace and reconciliation.
Over the past few years, HUM has been working in the areas of social security and public infrastructure services for women, including combating domestic violence, and providing education support to children, who drop out from school.
Some of HUM's most recent accomplishments include completing a water filtration project, which secures safe and clean drinking water to around 50 families in Ahmedabad; ensuring additional income for women members through kite creation and other trades, such as stitching; and, following-up on adolescent girls training that took place in 2013.
In the last year alone, HUM has directly supported around 175 people, while indirectly reaching over 1400. One of its beneficiaries is 56-year-old Najma banu Razakbhai, who lives in the Danilimda Area. Najma has been a part of the HUM Project since 2008. She was married at the age of 15 and has three daughters and a son. She makes kites and is an area leader, who was affected by the 2002 Gujarat riots, a three-day period of violent inter-communal violence. Najma confesses that she would like to continue working with HUM and IPM for the rest of her life.
Another beneficiary is Nafisa Hussain, who has been part of the HUM project since 2010. Nafisa is the main breadwinner in her family, after her husband passed away five years ago, leaving her a single parent to three daughters and one son. Just like Najma, she is also an area leader, who is grateful for the opportunity to be working with HUM.
Water Filter Installation
Through a project, entitled the Central Michigan Water Initiative (CMUCWI), in 2013, HUM was able to install around 50 water filters in local slums from Ahmedabad, as well as provide health education sessions on how to keep drinking water healthy and water-borne infectious diseases at bay. The health education trainings were provided to the local community by Saint Xavier College students. These trainings were primarily attended by children aged 6 to 15 and women.
The CMUCWI was carried out by Central Michigan University (CMU) College of Business Administration, CMU Research Corporation, IPM, HUM, and other NGO, institutional & corporate partners. IPM was fully involved at every stage of the project, from formulation to implementation.
While successfully implemented, the Project was repeatedly hampered with by the strict laws regarding foreign contributions in cash or kind, which require local and international NGOs to apply for permission from the Home Ministry, as well as by the bureaucratic and corrupt Indian administrative and political systems.
Apart from carrying out the aforementioned project, HUM and its area leaders constantly participate in protests at Area Offices of the Municipal Corporation to file complaints and find solutions for sanitation and safe drinking water problems that negatively impact the slums. In India, needed facilities and assistance are provided only when local residents take action and specify their demands on the city administration.
At the same time, HUM helps local slum residents obtain from the government their Ration card, Election Card, Light Bill Transfer, and other governmentally supplied assistance. These cards are crucial, because they provide individuals and families, access to subsidized food and cooking fuel, among other things. HUM leaders help the applicants fill out the required forms and accompany them to multiple departments that need to be crossed before obtaining the cards. This is often an exhausting and lengthy process, often involving spending several days, which daily wagers cannot afford to waste, in crossing the bureaucratic system. HUM's assistance allows individuals to avoid hiring 'touts,' who are individuals that often charge between $50-100 to complete the application process on behalf of applicants. The touts split the fees with governmental staff and then deliver the documents.
HUM continues to support and educate children to go to schools wherever possible. One of the ways in which this goal is achieved is by taking students to apply for enrollment in primary schools, since many of their parents are seasonal daily wage laborers unable to take time off to accompany them.
This is a lengthy and time-consuming process, as it involves several different stages, including motivating parents to send their children to school, and collecting all the needed documents, which are mainly the children's birth certificate and the parents' identity cards. Finally, HUM members accompany the children on often unsafe roads, especially for girls, in order to help them enroll in school. HUM also provides after-school tutoring to the school children in mathematics, reading, and writing, to ensure that they are able to succeed in school.
Projections and Goals:
In terms of upcoming objectives, HUM is hoping to raise funds to purchase raw material for the kites and other handcrafted products as well as to maintain a diversified range of activities for the local women, including by providing lessons on stitching and cutting. In order to continue its projects, HUM needs funding to cover trainers, the needed training equipment, participants costs, and office and training spaces.