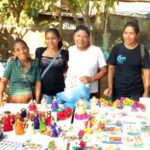 Region: Latin America and the Caribbean
Since 2004, IPM has partnered with Center for the Promotion of Integral Health (CEPROSI). This women organization located in Nindiri, NICARAGUA supports grassroots micro-enterprise projects that provide sustainable economic opportunities for women as well as to improve the nutrition and health in three communities, Campusano, Portillo, and Papayal, where it runs three main cooperative of women: Artesanias de Tuza, focusing on handcrafts; Sol de Vida, an herbal health cooperative, providing herbal health education; And Delicias de mi Tierra, an organic food cooperative, providing healthy food/meal preparation, pickling & preserving farmed produce.
CEPROSI assists the women's enterprises with operational planning and the financial management of donations & loans; Revolving Fund System Program CEPROSI provides small loans with very low interest rates to interested community members. The loan recipients use the funding to create sustainable sources of food & income and pay back into the revolving fund system.