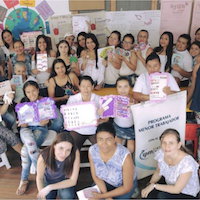 Region: Latin America and the Caribbean
Centro de Formación para la Paz (CFP), Columbia, runs two different projects: Ser Mujer and Niñez Trabajadora.
Ser Mujer is responsible for strengthening and consolidated a group of women in the field of personal development through a methodology that rescues identity as a route for individual and social mobilization. They have been providing training opportunities in areas that allow women to gain economic autonomy. 
Niñez Trabajadora seeks to prevent and eventually eradicate child labor in the city of Ibague through comprehensive and participatory actions. 
Read about their progress in the 2019 LAC Annual Report.